California Sunlight Hours & Renewable Energy Information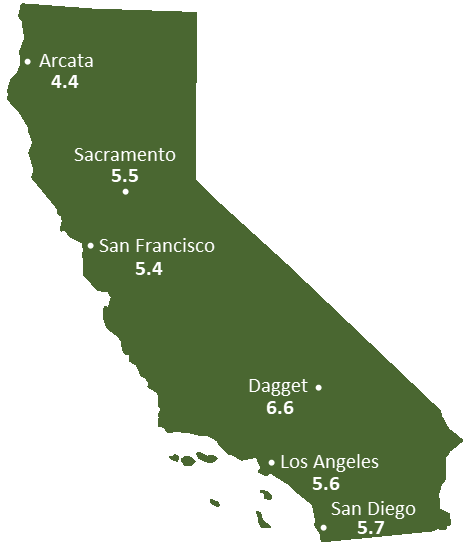 Quick Green Energy Summary for California
Sunlight
Average Annual Sunlight Hours:
3200 hours
Clear Days:
136 days per year
Summer Peak Sun Hours:
6.19 hours per day
Winter Peak Sun Hours:
3.42 hours per day
Average Peak Sun Hours :
5.38 hours per day
Wind
State Wind Rank :

31/50
Average Annual Wind Speed:
0.05 miles per hour
More Information on California Green Energy
California hosts a very favorable environment for solar panels, with high average peak sun hours and a lot of sunny days.
Solar insolation levels in California rank in the top ten of the whole country, and many households and the big businesses of Silicon Valley and the likes take advantage of solar power at a very competitive level.
The southern part of the state, like Dagget California and San Diego, have high average peak sun hours throughout the year.
The Northern cities like Arcata California still rank high in solar insolation hours and are also great locations for solar power systems.
Using a yearly average, there are 5.38 daily peak sun hours across the state of California. This number is calculated for a fixed solar panel.

When planning and trying to understand what impact solar panels can have on your electricity bill it helps to use an average number. Throughout the year the actual daily sunlight hours will fluctuate quite a bit based on weather, clouds and a number of issues and outside variables. Using an average calculation of peak sunlight hours, the best hours for solar insolation, helps drill down what to expect for the year in California. On a day to day basis expect to see a wide range of output.
---
---