Arkansas Sunlight Hours & Renewable Energy Information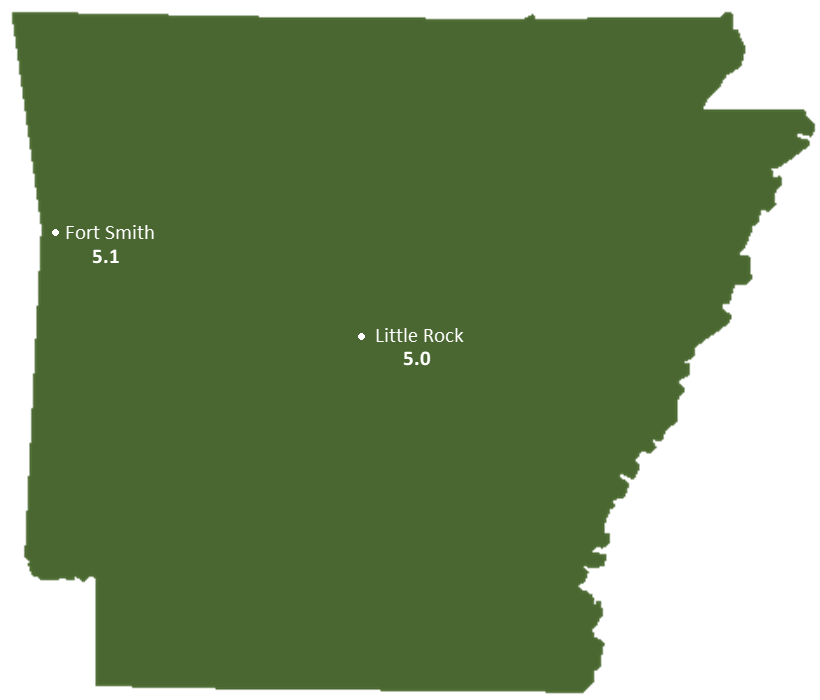 Quick Green Energy Summary for Arkansas
Sunlight
Average Annual Sunlight Hours:
2500 hours
Clear Days:
123 days per year
Summer Peak Sun Hours:
5.29 hours per day
Winter Peak Sun Hours:
3.88 hours per day
Average Peak Sun Hours :
4.69 hours per day
Wind
State Wind Rank :

48/50
Average Annual Wind Speed:
0.02 miles per hour
More Information on Arkansas Green Energy
Arkansas ranks right in the middle for average peak sun hours in the United States. For a state in the Southern region of the country there is a lot of potential for solar power. In 2015 there was a big push in Arkansas.
Fort smith on the Western side of the state gets slightly better peak hours than at the capital city in Little Rock.
Arkansas has favorable laws for adding solar power to your homes, with some tax incentives and some net metering incentives.
Walmart, with its headquarters in Arkansas has been making a large push to add solar panels to their buildings with the fairly favorable solar insolation of Arkansas.
It is important to remember, if you are looking to install solar panels then you have to understand that not every hour of sunlight will be converted at the same efficiency ratio. Certain factors such as time of year, the angle of both the sun and panels, varied cloud coverage, tracking mounts, or if you are using the system year round are just a few of the factors that could affect efficiency ratios.

Because of this you should look at average of peak hours of sunlight per day, which are the most ideal sunlight hours of solar insolation.

Arkansas receives an average of 4.69 peak sun hours a day on a fixed solar panel.
---
---