Georgia Sunlight Hours & Renewable Energy Information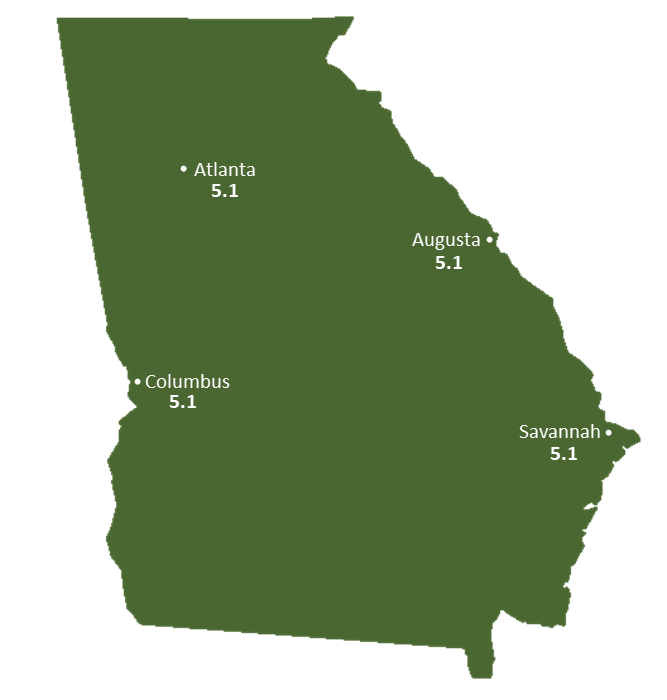 Quick Green Energy Summary for Georgia
Sunlight
Average Annual Sunlight Hours:
2900 hours
Clear Days:
112 days per year
Summer Peak Sun Hours:
5.16 hours per day
Winter Peak Sun Hours:
4.09 hours per day
Average Peak Sun Hours :
4.74 hours per day
Wind
State Wind Rank :

32/50
Average Annual Wind Speed:
0.05 miles per hour
More Information on Georgia Green Energy
Georgia is a very sunny state, ranking in the top half of US states for the amount of peak sun hours. Net metering is allowed in Georgia, and the amount of home solar panel installations and commercial installations is rising, making Georgia a strong competitor in the solar power market.
Electricity costs can be high in Georgia during hot summer days if you want to use an air conditioner to keep your house cool. Well, the good news is that the sun shines for longer hours during the summer, so solar panels could be a great alternative to higher energy costs.
Tax exemptions are not particularly favorable in Georgia. Possibly because with good tax breaks then everyone would have a great incentive to switch to solar power in Georgia, and perhaps the electric companies are lobbying hard against this. Even without the tax breaks, Georgia has a good amount of peak sun hours, especially the high levels of solar insolation during the summer months, which greatly helps efficiency.
Using a yearly average, there are 4.74 daily peak sun hours across the state of Georgia. This number is calculated for a fixed solar panel.

When planning and trying to understand what impact solar panels can have on your electricity bill it helps to use an average number. Throughout the year the actual daily sunlight hours will fluctuate quite a bit based on weather, clouds and a number of issues and outside variables. Using an average calculation of peak sunlight hours, the best hours for solar insolation, helps drill down what to expect for the year in Georgia. On a day to day basis expect to see a wide range of output.
---
---