Kentucky Sunlight Hours & Renewable Energy Information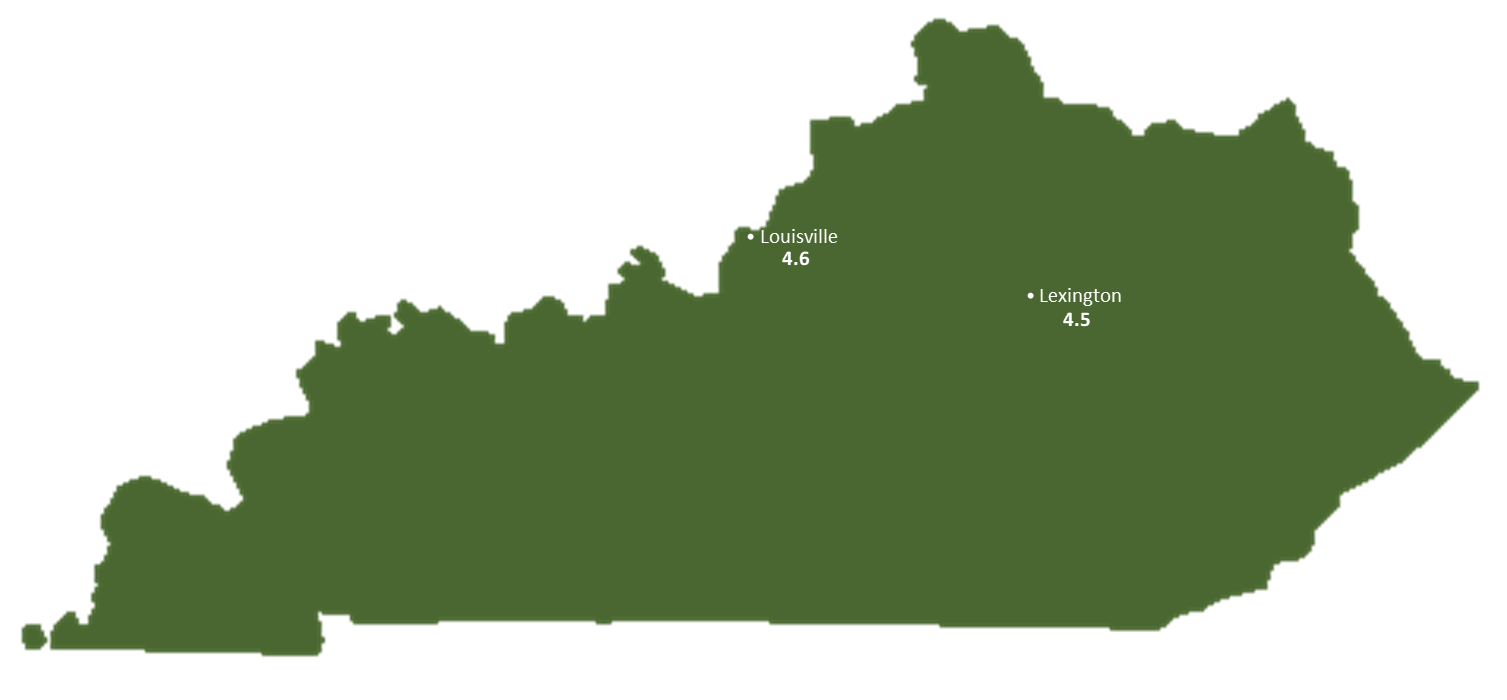 Quick Green Energy Summary for Kentucky
Sunlight
Average Annual Sunlight Hours:
2500 hours
Clear Days:
93 days per year
Summer Peak Sun Hours:
5.97 hours per day
Winter Peak Sun Hours:
3.6 hours per day
Average Peak Sun Hours :
4.94 hours per day
Wind
State Wind Rank :

45/50
Average Annual Wind Speed:
0.03 miles per hour
More Information on Kentucky Green Energy
Kentucky, the bluegrass state. That grass may turn green with that bright yellow sun shining ranked 14th in the country with an average of about 5 peak sun hours per day! Kentucky has plenty of room to grow in the solar space, and plenty of the all important resource, a bright shining sun. Kentucky ranks right in the middle as far as state population goes, but in the upper threshold of clear sunny days, makes in an incredible place for solar power growth.
Kentucky has net metering laws, not the most favorable, but not the worst. Lexington, in the center of the state has similar peak sunlight hour patterns to area of Germany, and Germany has become a global leader in renewable energy production. Another reason to believe that Kentucky has what it take to become a leader in the US.
Kentucky is home to many coal companies and coal related jobs, which has hurt the production of renewable energy since the unions and lobbyist are trying to keep coal in the game. However, a rotation towards renewable energy would absolutely be a better decision in the long run for Kentucky. Let's get those coal workers studying up on solar insolation so they can keep their careers going!
A fixed tilt solar panel does not change angles to adjust with the sun, so looking at the average peak sun hours using a fixed tilt panel can set a good baseline for calculations. On average, the state of Kentucky receives 4.94 daily peak sun hours.

This number obviously changes if you were to drill down and examine the peak sunlight hours on a daily basis because of the number of factors that can affect a solar panels ability. Natural factors, such as cloud coverage, weather, time of year and much more all impact the daily sun light hours and amount of solar insolation. Not every hour of sunlight will be converted at the same efficiency ratio, so it can help to look at the average when planning for your year.
---
---