Massachusetts Sunlight Hours & Renewable Energy Information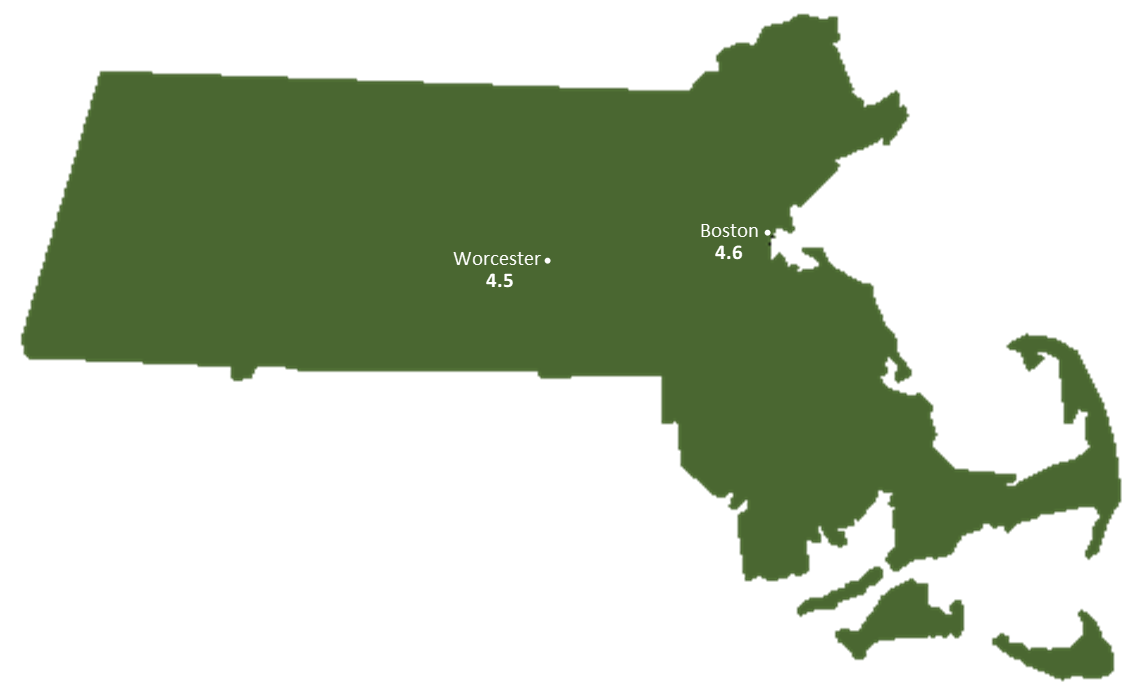 Quick Green Energy Summary for Massachusetts
Sunlight
Average Annual Sunlight Hours:
2600 hours
Clear Days:
98 days per year
Summer Peak Sun Hours:
4.27 hours per day
Winter Peak Sun Hours:
2.99 hours per day
Average Peak Sun Hours :
3.84 hours per day
Wind
State Wind Rank :

16/50
Average Annual Wind Speed:
0.07 miles per hour
More Information on Massachusetts Green Energy
Massachusetts ranks very low in average peak sun hours against other states in the US. Although the average peak sun hours are very low, this does not mean that solar power is not a realistic option of electricity generation in the state. Massachusetts, with such a rich history and important role in the founding of the wonderful United States definitely has what it takes to become a leader in solar power.
Boston, on the Eastern coast of the states gets slightly higher peak sun hours than the Central or Western side of the state in cities like Worcester. Also, Massachusetts will have slightly higher average peak sun hours during the summer months because a greater likelihood for clear days and longer time and better angle that the sun has during those longer summer days.
Massachusetts also gets some great wind of the Atlantic coast, also contributing wind turbines towards its goal of increasing renewable energy resources. But, there for sure is enough solar insolation in the state to use solar power as an alternative source of energy as technology in this arena gets better and better, and that's saying something special, since massachusetts ranks so low in peak sun hours.
A fixed tilt solar panel does not change angles to adjust with the sun, so looking at the average peak sun hours using a fixed tilt panel can set a good baseline for calculations. On average, the state of Massachusetts receives 3.84 daily peak sun hours.

This number obviously changes if you were to drill down and examine the peak sunlight hours on a daily basis because of the number of factors that can affect a solar panels ability. Natural factors, such as cloud coverage, weather, time of year and much more all impact the daily sun light hours and amount of solar insolation. Not every hour of sunlight will be converted at the same efficiency ratio, so it can help to look at the average when planning for your year.
---
---