Minnesota Sunlight Hours & Renewable Energy Information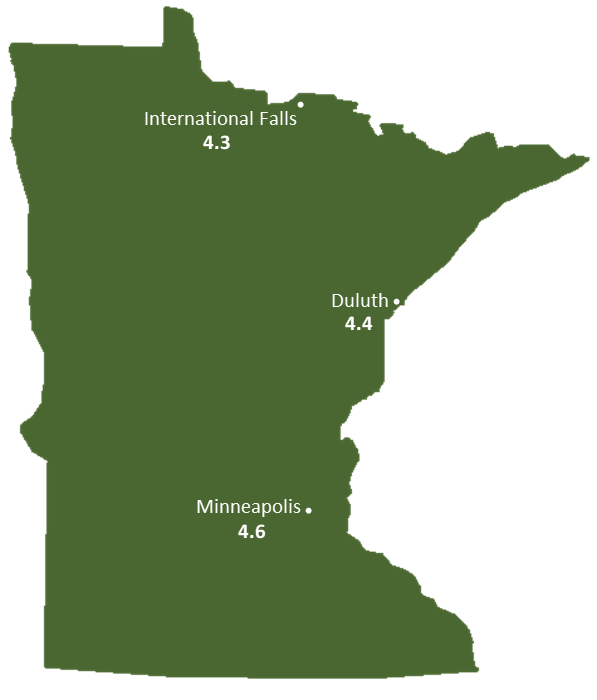 Quick Green Energy Summary for Minnesota
Sunlight
Average Annual Sunlight Hours:
2700 hours
Clear Days:
95 days per year
Summer Peak Sun Hours:
5.43 hours per day
Winter Peak Sun Hours:
3.53 hours per day
Average Peak Sun Hours :
4.53 hours per day
Wind
State Wind Rank :

23/50
Average Annual Wind Speed:
0.06 miles per hour
More Information on Minnesota Green Energy
Minnesota, the north star state, the land of 10,000 lakes, or perhaps one day – the land of 10,000 MW of solar capacity? At the rate minnesota is expanding it's solar capacity it could one day be a world leader. With somewhat favorable peak sun hours in Minnesota, especially in the summer, and favorable government decisions, the solar capacity in Minnesota is increasing every year.
Move over Mall of America, you're not the most impressive story in town anymore, it's the potential of solar energy that should be making headlines. Minnesota adopted net metering laws in 1983, so that's old news compared to the solar capacity increasing in this beautiful state.
Because of its geographical location in the Northern part of the country, peak sun hours in Minnesota change dramatically from winter to summer, as they experience longer days and better sun angles in the summer. However, with improving technology, net metering benefits, and a progressive government and citizens, having solar panels on your home or for your business is a legitimate way to generate electricity in this great state.
When pricing and calculating how solar panels will work for your home or business it is best to use a conservative sunlight hour estimate. A lot of variables factor into accurate estimates and not every hour of sunlight is equal. For example, the tilt of the solar panels, sporadic cloud coverage, time of year, angle of the sun are just a few factors of many that can cause a variety in daily output.

A yearly average specifically looking at peak daily sunlight hours will help eliminate the fluctuation in numbers.

Using a fixed solar panel Minnesota receives an average of 4.53 peak sun hours. These are the best hours of solar insolation.
---
---