New Hampshire Sunlight Hours & Renewable Energy Information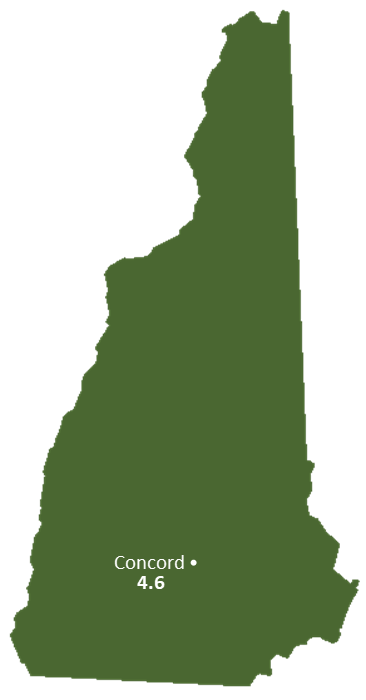 Quick Green Energy Summary for New Hampshire
Sunlight
Average Annual Sunlight Hours:
2500 hours
Clear Days:
90 days per year
Summer Peak Sun Hours:
5.3 hours per day
Winter Peak Sun Hours:
3.66 hours per day
Average Peak Sun Hours :
4.61 hours per day
Wind
State Wind Rank :

22/50
Average Annual Wind Speed:
0.06 miles per hour
More Information on New Hampshire Green Energy
The beautiful state of New Hampshire for many is the greatest place on earth, lush and green and wonderful. Though it may be top on your list of natural wonder, it ranks about right in the middle for average peak sun hours in the United States. But, don't take this granite state for granted, because it has the potential to become a solar power powerhouse.
The first US state to declare independence from England, so why not become the first state to be completely off the grid? The sun is all the power we need, if harnesses correctly, and in the summer months in New Hampshire the average peak sun hours per day provides plenty of solar radiation to make this renewable source a viable option.
It is important to remember, if you are looking to install solar panels then you have to understand that not every hour of sunlight will be converted at the same efficiency ratio. Certain factors such as time of year, the angle of both the sun and panels, varied cloud coverage, tracking mounts, or if you are using the system year round are just a few of the factors that could affect efficiency ratios.

Because of this you should look at average of peak hours of sunlight per day, which are the most ideal sunlight hours of solar insolation.

New Hampshire receives an average of 4.61 peak sun hours a day on a fixed solar panel.
---
---