New Mexico Sunlight Hours & Renewable Energy Information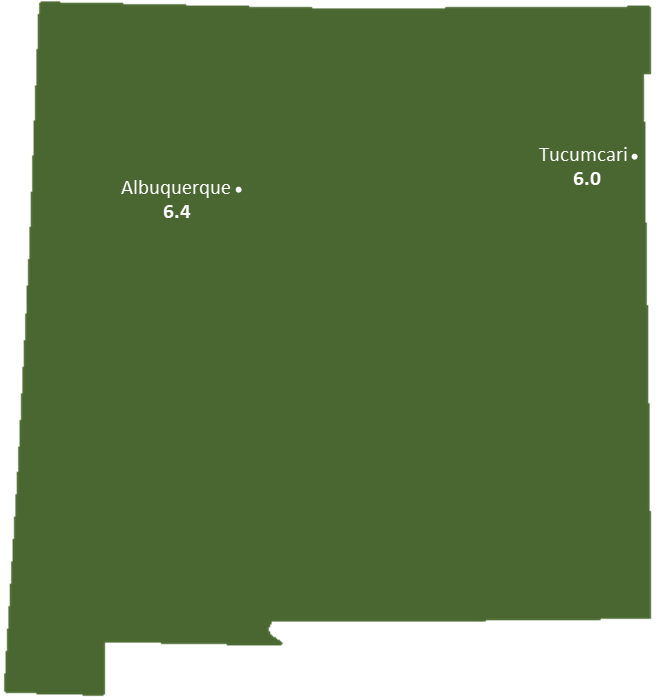 Quick Green Energy Summary for New Mexico
Sunlight
Average Annual Sunlight Hours:
3400 hours
Clear Days:
167 days per year
Summer Peak Sun Hours:
7.16 hours per day
Winter Peak Sun Hours:
6.21 hours per day
Average Peak Sun Hours :
6.77 hours per day
Wind
State Wind Rank :

47/50
Average Annual Wind Speed:
0.02 miles per hour
More Information on New Mexico Green Energy
New Mexico, the land of enchantment is enchanted with some of the highest average peak sun hour per day all year, a complete hotspot for solar power in the United States. New Mexico with its dry and sunny climate, with many clear days every year, may even be one of the best places in the entire world to take advantage of our great sun with solar panels and photovoltaics.
New Mexico has such a rich history and beautiful landscape, and with the right motivation and technology, the state could become a global leader in solar power production. Sante Fe is actually right on top – the nations highest state capital by elevation – so they got that going for them already!
It is important to remember, if you are looking to install solar panels then you have to understand that not every hour of sunlight will be converted at the same efficiency ratio. Certain factors such as time of year, the angle of both the sun and panels, varied cloud coverage, tracking mounts, or if you are using the system year round are just a few of the factors that could affect efficiency ratios.

Because of this you should look at average of peak hours of sunlight per day, which are the most ideal sunlight hours of solar insolation.

New Mexico receives an average of 6.77 peak sun hours a day on a fixed solar panel.
---
---