Rhode Island Sunlight Hours & Renewable Energy Information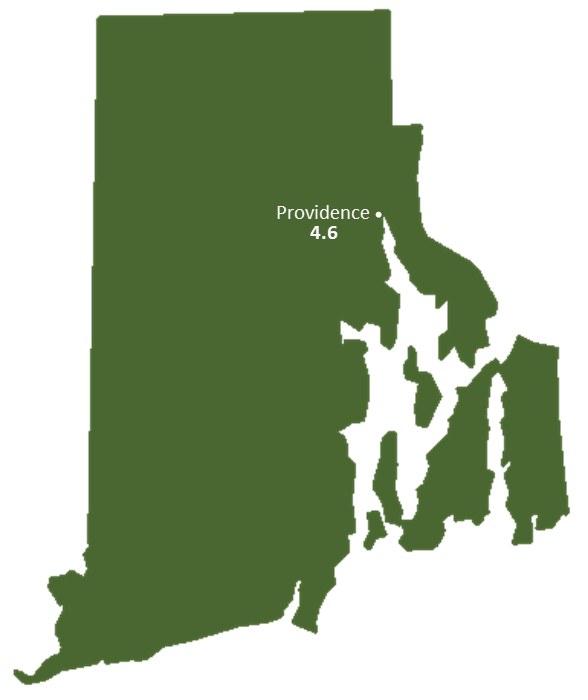 Quick Green Energy Summary for Rhode Island
Sunlight
Average Annual Sunlight Hours:
2600 hours
Clear Days:
98 days per year
Summer Peak Sun Hours:
4.69 hours per day
Winter Peak Sun Hours:
3.58 hours per day
Average Peak Sun Hours :
4.23 hours per day
Wind
State Wind Rank :

7/50
Average Annual Wind Speed:
0.14 miles per hour
More Information on Rhode Island Green Energy
Rhode Island known as the ocean state is full of natural beauty and ranks about in the middle for average peak sun hours compared to other states. The last of the 13 original colonies to become a state, and also a slight lagger when it comes to renewable energy, but not for geographical reasons because the amount of average peak sun hours is high enough for solar power projects.
Rhode island does have net metering laws, and the installed capacity of solar power continues to increase. Rhode island also has government mandates to have a certain percentage of electricity to be generated by renewable energy sources in the future, but this can also include wind or hydro.
Using a yearly average, there are 4.23 daily peak sun hours across the state of Rhode Island. This number is calculated for a fixed solar panel.

When planning and trying to understand what impact solar panels can have on your electricity bill it helps to use an average number. Throughout the year the actual daily sunlight hours will fluctuate quite a bit based on weather, clouds and a number of issues and outside variables. Using an average calculation of peak sunlight hours, the best hours for solar insolation, helps drill down what to expect for the year in Rhode Island. On a day to day basis expect to see a wide range of output.
---
---