South Carolina Sunlight Hours & Renewable Energy Information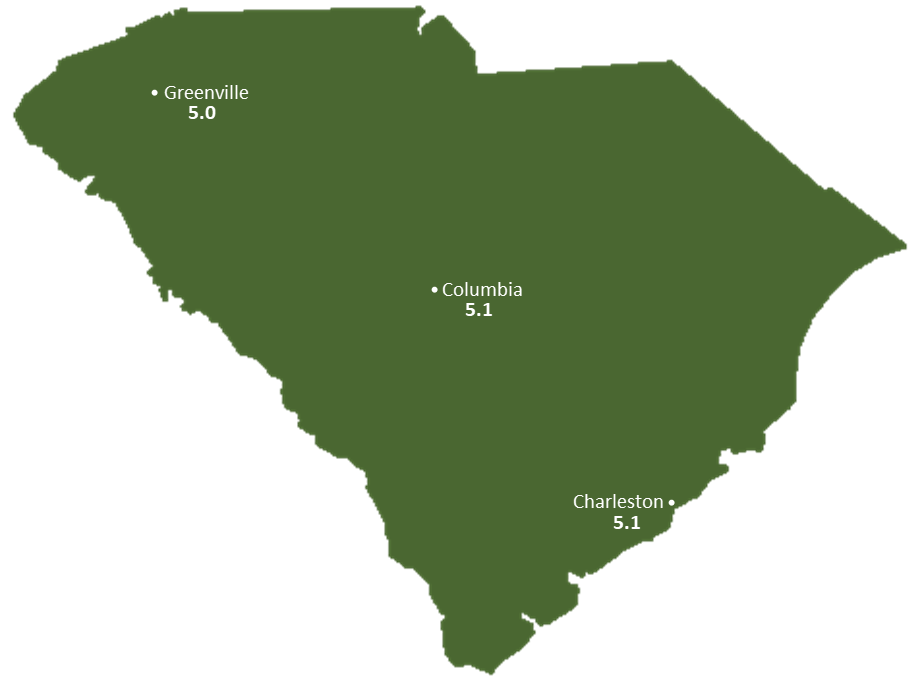 Quick Green Energy Summary for South Carolina
Sunlight
Average Annual Sunlight Hours:
2800 hours
Clear Days:
115 days per year
Summer Peak Sun Hours:
5.72 hours per day
Winter Peak Sun Hours:
4.23 hours per day
Average Peak Sun Hours :
5.06 hours per day
Wind
State Wind Rank :

33/50
Average Annual Wind Speed:
0.05 miles per hour
More Information on South Carolina Green Energy
South Carolina ranks pretty high for average peak sun hours per day compared to other states in the US. Sunny and beautiful, the palmetto state, has slowly been increasing installed solar capacity over the years and is ripe for a boom as technology improves and incentives increase to have solar power projects.
The first battle of the Civil War took place in South Carolina, so maybe they could be the first to get all their energy from solar power, they definitely have high enough average peak sun hours for this to be possible. A tourist destination for its beautiful beaches and climate and people, this state should do whatever it takes to preserve the natural beauty of the environment, and using more clean energy would be a good start. This is perhaps why Myrtle Beach has a very large solar power project and supply.
When pricing and calculating how solar panels will work for your home or business it is best to use a conservative sunlight hour estimate. A lot of variables factor into accurate estimates and not every hour of sunlight is equal. For example, the tilt of the solar panels, sporadic cloud coverage, time of year, angle of the sun are just a few factors of many that can cause a variety in daily output.

A yearly average specifically looking at peak daily sunlight hours will help eliminate the fluctuation in numbers.

Using a fixed solar panel South Carolina receives an average of 5.06 peak sun hours. These are the best hours of solar insolation.
---
---