Colorado Sunlight Hours & Renewable Energy Information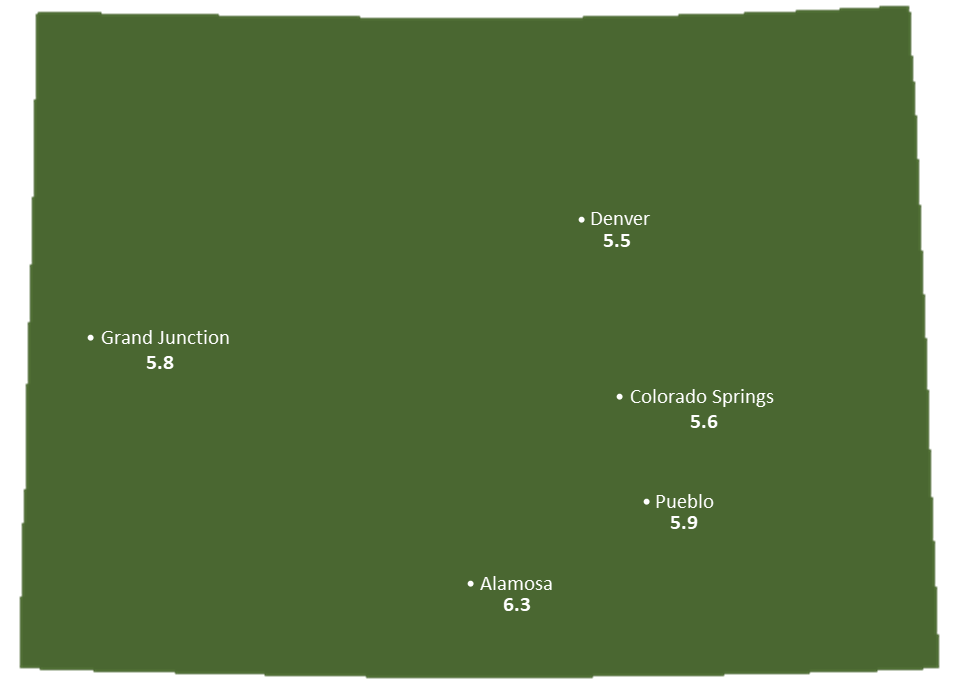 Quick Green Energy Summary for Colorado
Sunlight
Average Annual Sunlight Hours:
3200 hours
Clear Days:
136 days per year
Summer Peak Sun Hours:
5.72 hours per day
Winter Peak Sun Hours:
4.44 hours per day
Average Peak Sun Hours :
4.87 hours per day
Wind
State Wind Rank :

13/50
Average Annual Wind Speed:
0.10 miles per hour
More Information on Colorado Green Energy
Surprising to many who have never been there – because Colorado is often known for it's snowy mountains – is that Colorado has a great level of peak sun hours for solar power production. There are on average 136 perfectly clear days a year, and plenty more days where solar power production is still possible. One of the advantages of being high in the mountains is that you often get clear skies. Colorado also has very favorable net metering laws, with great incentives for citizens to accept the up front cost for putting a solar system on your home.
With a lot of sunny days a year, Colorado is a very green state and offers great incentives for solar power in homes or companies.
In the Southern part of the state, like near Alamosa Colorado, the peak sun hours is even higher, and is competitive with some of the best areas in the country for solar insolation.
A fixed tilt solar panel does not change angles to adjust with the sun, so looking at the average peak sun hours using a fixed tilt panel can set a good baseline for calculations. On average, the state of Colorado receives 4.87 daily peak sun hours.

This number obviously changes if you were to drill down and examine the peak sunlight hours on a daily basis because of the number of factors that can affect a solar panels ability. Natural factors, such as cloud coverage, weather, time of year and much more all impact the daily sun light hours and amount of solar insolation. Not every hour of sunlight will be converted at the same efficiency ratio, so it can help to look at the average when planning for your year.
---
---