Wisconsin Sunlight Hours & Renewable Energy Information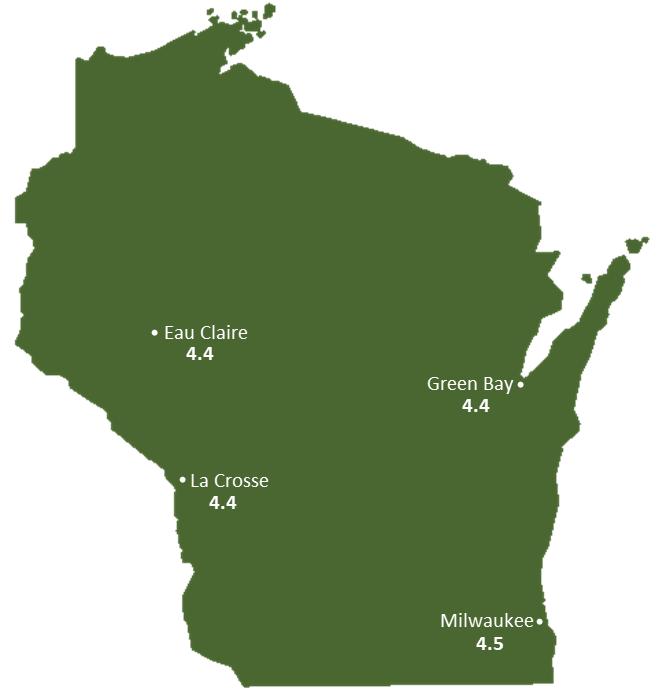 Quick Green Energy Summary for Wisconsin
Sunlight
Average Annual Sunlight Hours:
2400 hours
Clear Days:
89 days per year
Summer Peak Sun Hours:
4.85 hours per day
Winter Peak Sun Hours:
3.28 hours per day
Average Peak Sun Hours :
4.29 hours per day
Wind
State Wind Rank :

29/50
Average Annual Wind Speed:
0.05 miles per hour
More Information on Wisconsin Green Energy
Wisconsin ranks right near the middle when it comes to average peak sun hours per day in the state. Installed solar capacity has increased over the last several years and will very likely continue to increase every year as technology improves and citizens understand the amazing benefits of clean, renewable energy sources.
The badger state is full of incredible wildlife, amazing forests, lakes and mountains, plenty of natural beauty to protect from the pollution of dirty fossil fuels. Sometimes considered to have more of a blue collar population within the state of Wisconsin, many would be pleased to know that there are more jobs available in the renewable energy space that most other areas of the country. Even with a below average level of peak sun hours and solar insolation, the citizens of Wisconsin are beginning to understand the great benefits of solar power.
It is important to remember, if you are looking to install solar panels then you have to understand that not every hour of sunlight will be converted at the same efficiency ratio. Certain factors such as time of year, the angle of both the sun and panels, varied cloud coverage, tracking mounts, or if you are using the system year round are just a few of the factors that could affect efficiency ratios.

Because of this you should look at average of peak hours of sunlight per day, which are the most ideal sunlight hours of solar insolation.

Wisconsin receives an average of 4.29 peak sun hours a day on a fixed solar panel.
---
---