Florida Sunlight Hours & Renewable Energy Information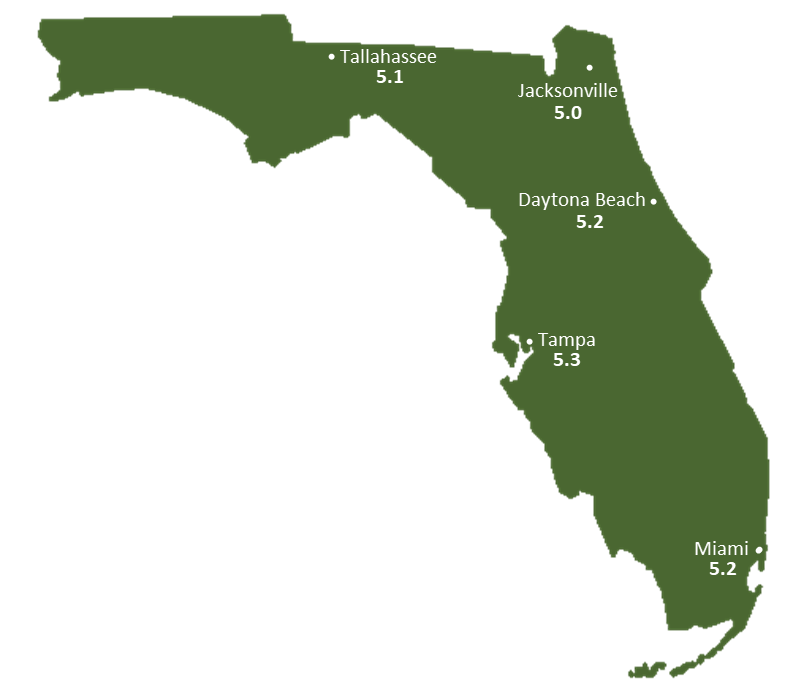 Quick Green Energy Summary for Florida
Sunlight
Average Annual Sunlight Hours:
2900 hours
Clear Days:
101 days per year
Summer Peak Sun Hours:
6.16 hours per day
Winter Peak Sun Hours:
5.26 hours per day
Average Peak Sun Hours :
5.67 hours per day
Wind
State Wind Rank :

25/50
Average Annual Wind Speed:
0.05 miles per hour
More Information on Florida Green Energy
Florida, the sunshine state, or in other words, the solar insolation state, ranked in the top ten for amount of sunshine per year in the US. In Florida you can have a solar power system completely off the grid, if you please, or be connected to the grid and take advantage of net metering. If you choose to stay on the grid make sure you understand the hurricane and weather protocols in case the power supply goes out in your area. Your solar panels, if connected to the grid may be temporarily cut off the grid for safety reasons for the company working to restore the power.
Key West gets the highest amount of peak sun hours in Florida, mostly due to its geographical advantage to the South. But, Tallahassee and Jacksonville to the North of the state still get a good amount of peak sun hours
It is important to remember, if you are looking to install solar panels then you have to understand that not every hour of sunlight will be converted at the same efficiency ratio. Certain factors such as time of year, the angle of both the sun and panels, varied cloud coverage, tracking mounts, or if you are using the system year round are just a few of the factors that could affect efficiency ratios.

Because of this you should look at average of peak hours of sunlight per day, which are the most ideal sunlight hours of solar insolation.

Florida receives an average of 5.67 peak sun hours a day on a fixed solar panel.
---
---