Why do some wind turbines not spin?
May 31, 2012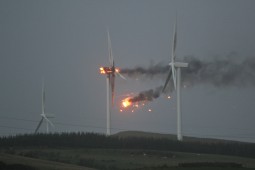 Ever wonder why some wind turbines in a wind farm are not spinning?
Well, there are a handful of potential reasons why a wind turbine is not spinning.
1.  There is not enough wind for the wind turbine to start spinning on its own, and any available start-up mechanism for low wind speeds is not being used.
2.  The wind turbine has been shut down for maintenance.
3.  The wind farm is already producing electricity at capacity, so it is unnecessary to have every turbine in use.
4. There is too much wind, and the excessive wind speeds can be harmful to the integrity of the machine, especially a horizontal wind turbine.  High wind speeds can destroy a horizontal wind turbine, like in the picture on the left.
5.  The turbine blades are poorly designed, and cannot spin in any wind conditions.
---