World's Most Powerful Offshore Wind Turbine
April 9, 2012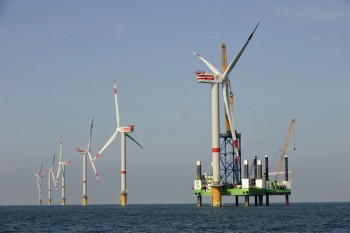 The first ever 6 MW offshore wind turbine was installed 17 miles off the Belgian coast in the North Sea at depth levels ranging from 39 ft-89ft.  This massive wind turbine inaugurates phase two, the second of three phases, of the Thornton Bank Wind Farm project.
The wind turbine has a rated capacity output of 6.15 MW, a rotor diameter of 416 ft, and a hub height of 280 – 312 ft (hub height does not include the extra height of the turbine blades).
The first phase of the Thornton Bank Wind Farm project involved the construction of six, 5 MW turbines, for a total rated capacity of 30 MW on what is eventually planned to be a 325 MW wind farm.  The wind turbines were designed by REpower, a leading manufacturer of on and offshore wind turbines.  Phase two will consist of the installation of twenty-four new 6.15 MW turbines, bringing the new rated capacity to nearly 178 MW.
For a range of houses that averages a required usage of 1 kW hour, a 6.15 MW wind turbine could potentially power just over 6,000 homes.  A 23 mile long, 150 kV underwater cable connects the wind farm to the shore.  Belgium hopes to have 13% of all its energy come from a renewable source by 2020.  The Obama administration approved a Mid-Atlantic offshore wind project earlier this year to help jump-start offshore wind farm development off the coasts of Delaware, Maryland, New Jersey, and Virginia.
---